Hi guys!!!
I can't believe that Christmas is just a week away!
I have had an incredible year and an even more incredible year when it comes to books. I have read some amazing books and I admit that it was so difficult for me to choose just a handful so, I decided this list is not going to be a top 10. Because lets face it, I'm 100% positive that It's going to go beyond that number!
So, in no particular order: "The Top favourite Books of 2017!!"
Happy Reading!

Fallen Crest Forever (Fallen Crest High #7)
 By  Tijan
This series by Tijan has had me captivated since 2013. That's how good this series is. And I cannot believe that it's over! This series introduced me to one of my favourite book boyfriend, Mason Kade and I will forever love and miss the triple threat- Mason, Logan and Sam. Fallen Crest Forever is the perfect end to this perfect series.
---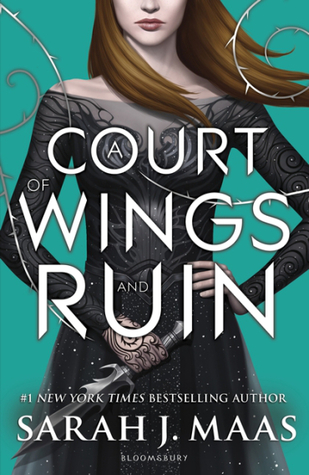 A Court of Wings and Ruin  (A court of Thorns and Roses #3)
By  Sarah J Maas 
This Fandom is insane and crazy for a reason! Every page is addictive and creative…did I mention so bloody good?!
The last time I felt this restless, excited madness was the Harry Potter series. Sarah J Maas also introduced us to one of my other favourite Book Boyfriend- Rhysand. Prepare to swoon, Ladies and Gentlemen. Rhysand will literally sweep you off your feet.
---

A Portrait Of Pain (Seraph Black #4)
  By Jane Washington
This series was so out of the box for me. A reverse-harem. But have no fear- It's not as crass as it sounds but it does have a whole lot of 'tension' lol.
A portrait of pain is THE one. I loved this book.
---

The Mafia and his Angel: Part 3 (Tainted Hearts #3)
 By Lylah James

I seriously don't know what to say that hasn't been said about this series. This series has become one of my favourite mafia romance. It's brutal, heartbreaking. It's basically an emotion knock-out punch for all things angst and the rollar coaster of emotions!
If you'd like to read my 'rambling' review: Part 2 and Part 3
---

American King (New Camelot Trilogy #3)
By Sierra Simone
This trilogy was Epic! I can't recommend this enough. So different, so unconventional! I have never felt such anguish in the most heartbreakingly beautiful way.
---
Ends Here (Road to Nowhere #2)
By M. Robinson
Ends Here is Part two of the Road to Nowhere series. It's MC romance heaven. This book gutted me! I highly recommend you to read this series. I promise you, you will love it!
---
Trust 
By Kylie Scott

A stunning book by one of my favourite author's of all time!
Enough said. Trust me.
---

Vicious (Sinners Of Saint #1)
 By L.J.  Shen

My favourite romance novel from the Goodreads Award. I Loved this book! It had a 'no-bullshit' attitude to it that was amazing! This book is badass, brutal, dysfunctional, epic bullies to lovers kind of love story. Highly recommend this one!
---

Always: A legacy Novel (Cross + Catherine #1)
 By Bethany-Kris
My god! This book is epic!
why do I love this book? Because the author gave me Cross.
His undying unconditional love is something out of this world!
---

Ghosted
By J.M. Darhower
Ghosted is a second chance romance at it's best. I've lost count on the number of times I've read this one already.
---

The Ghostwriter
By Alessandra Torre
This book is my 'I did not expect that' book.
Filled with mystery and an ending that made me cry like a baby!
---
 Torn Between Two (The Torn Duet #1)
  By Mia Kayla
This book in particular has become a guilty pleasure. The emotional roller coaster is honestly brutal yet so satisfying. I can't recommend this enough.
---

  Out of the Ashes (Maji #1)
   By L.A. Casey
This book is so beyond what I normally read but It was written by one of my favourite author, so I had to buy to. I will admit that the storyline is not the best but I chose this as one of my favourites for this year because it got me intrigued into a whole new genre of reading.
I guess L.A. Casey got what she wanted. My quest for similar books have so far been a disappointment but I shall continue to search.
---
 The Forbidden
 By Jodi Ellen Malpas
My year round up will never be complete without a Jodi Ellen Malpas. The Forbidden is a love-hate book. I hate it yet I love it. I can't help it. I love it more. hahaha.
---
And there it is… my top favourites for the year 2017. According to Goodreads, I have officially, as of now, completed 270 book. I'm sure that out of that I have hated maybe around 10 to 20 books… maybe… That makes this year a happy year for this book nerd!
Happy Reading and I hope you have a wonderful festive holiday!